Free!! 1hr Family Play Session
In partnership with London Play's
'Neighbourhood Play Havens'
Neighbourhood Play Havens (NPH) ensure vulnerable children, or children that have lived for months in confinement and have had little or no opportunity to play outside since lockdown will have a place to play in a familiar, supportive environment this summer.
In partnership with London play Awesome will be offering daily play sessions with specific time slots in weekday evenings and all day weekends this summer for Islington residents.
The project will run up until the 6th September on various Awesome adventure playgrounds. Please email to enquire about spaces or with any questions you may have!! 2020summeradventureplay@awesomecic.co.uk  
Funded by the National Lottery Community Fund and the UK Government, NPH will provide families with a private play hour at least once a week, including families that have a member who is clinically extremely vulnerable from COVID-19.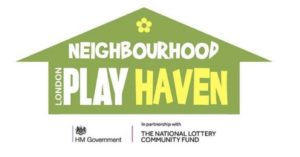 Why not hire an adventure playground for your next function
Stimulate the senses
Each Awesome venue is unique, flexible and affordable. We have some pretty unusual spaces throughout Islington, like the amphitheatre at Barnard and the labyrinth of tunnels at Waterside, so if you're looking for somewhere to stimulate the senses and offer something different, take a look at each of our sites below.
Over the years our venues have been booked for all sorts of events and activities, from photoshoots to meetings. So if you're unsure of whether we have something suitable, get in touch and we'll take you through the options. We're committed to making sure every part of your booking runs smoothly, offering suggestions where we can, and coordinating everything to meet your needs on the day.